Safe and Organized Lockers for Athletic Storage
Spacesaver worked with the University of Oregon to refine and redesign athletic equipment storage areas all around campus, from the new Marcus Mariota Sports Performance Center (football equipment room storage as well as storage for baseball, soccer, lacrosse, and tumbling), to the Knight Arena (basketball team storage), to Sanders Stadium (softball team storage).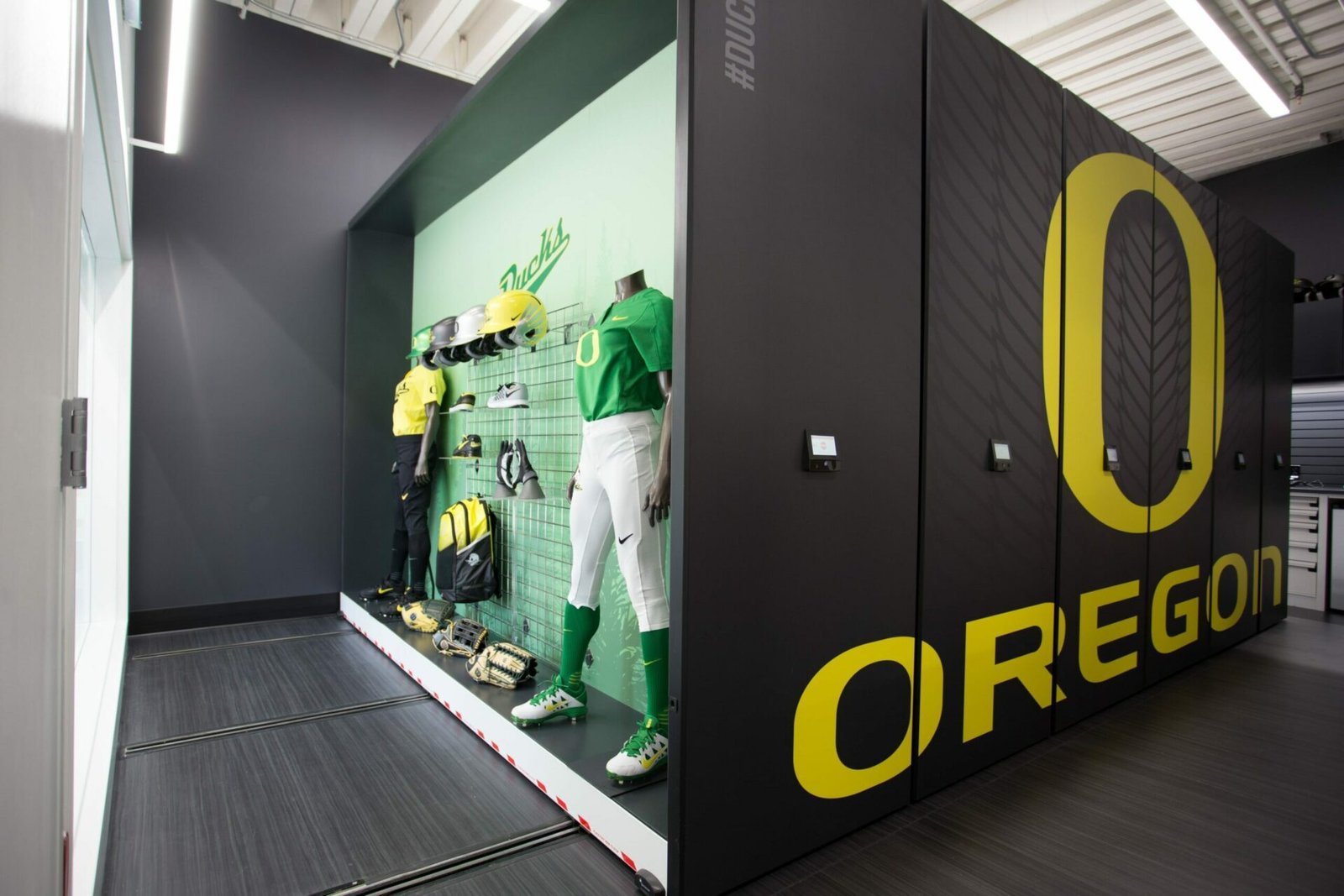 Across the University of Oregon campus, Spacesaver has helped create athletic equipment storage systems that protect valuable assets, streamline workflows, and boost team pride. Nowhere is this more evident than at the new Marcus Mariota Sports Performance Center, which has been hailed as "a testament to style and function." The facility features 2.5 miles of Spacesaver drawers and shelving housed in visually stunning Spacesaver compact mobile storage systems.
For many university football teams, the simple days of "home" and "away" uniforms are over. This is particularly true at the University of Oregon, where new uniforms are issued weekly. The team's equipment managers were struggling to keep up with the thousands of objects they needed to store, retrieve, issue, and collect every week over the course of the season.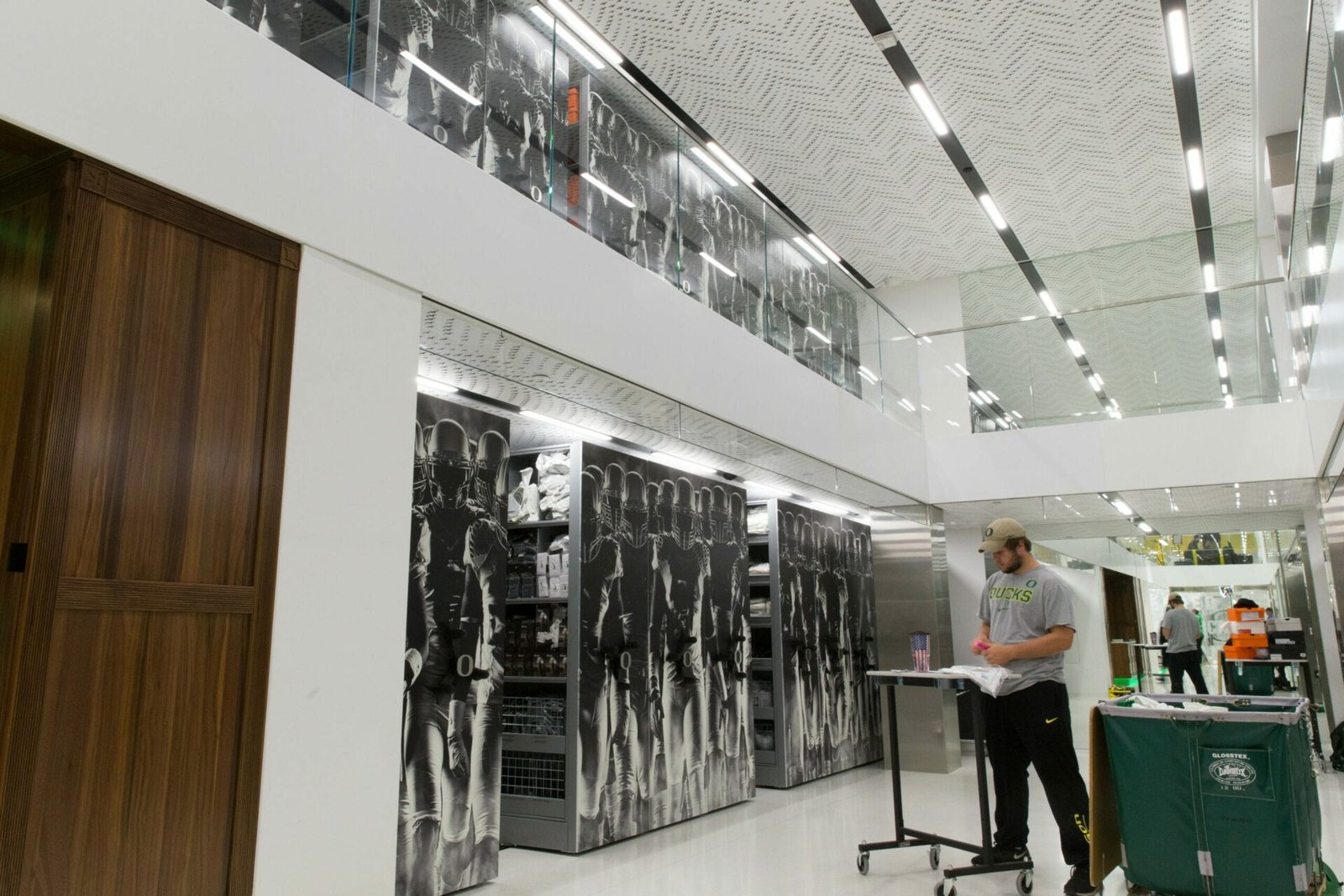 Thanks to a generous gift from Phil and Penny Knight, staff was able to design a new football storage facility that's as functional as it is attractive. During numerous planning meetings, the Spacesaver consultant met with the project team to determine the team's needs, gain an understanding of the planned construction, and help determine how to maximize the available space. Aaron Wasson, director of equipment operations, worked with his staff and the Spacesaver consultant to analyze workflows, measure items that needed to be stored, and estimate future storage requirements. "We spent hundreds of hours designing the Spacesaver systems, how each of those spaces would look and feel, and how they would function," he said.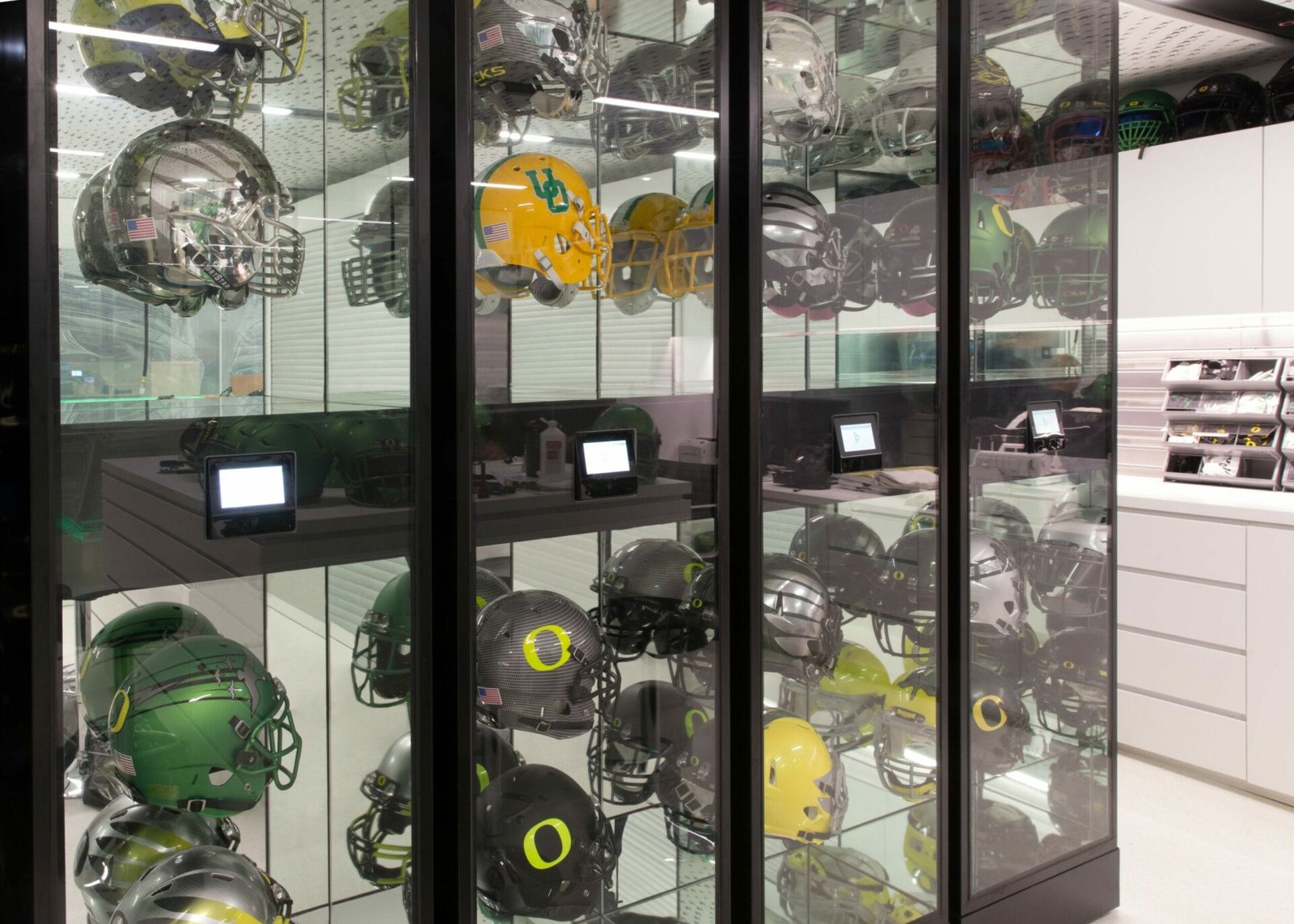 Helmets are prepped, stored, and maintained in "The Armory," a purpose-built room featuring mirrored Spacesaver cabinets mounted on a high-density mobile system. Face masks are stored on Spacesaver shelving concealed behind roll-down doors.
The design team decided to create a mezzanine due to the building's long and narrow footprint. The ground floor stores items for daily use, while the upper level, which is less frequently accessed, stores surplus items as well as items that will be needed later in the season.
We've prepared a lookbook that gives an overview of these projects. Download it below to see how careful planning and attention to detail can create highly functional systems that protect team assets, streamline processes, and boost team pride. Learn more about this project by clicking here.
Contact Us for All Your Sports Storage Needs
If you want to learn how we can transform your sports equipment space into a state-of-the-art facility, contact us online today or call us at 1-800-696-3453.