An effective government is an efficient government. The ability to manage large amounts of information – be it collecting, processing, utilizing, and storing that information – is a key driver in measuring agency efficiency.
Information and records management is what we do. Bradford Systems has decades of experience assisting governmental agencies and organizations achieve optimal efficiency. We're launching a three-part blog series highlighting just how we do this. Keep reading to learn about best practices for management of vital information and records.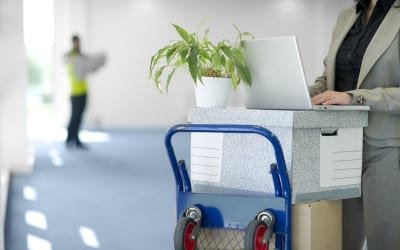 Reducing Paper, Enhancing Data, Saving Money
Piles of paper do nothing to promote efficiency. In fact, an overabundance of physical documents can be detrimental to workflow and productivity, not to mention a huge and preventable waste of money. Information management solutions from Bradford Systems help your team streamline hardcopy files with commercial scanning and imaging. Barcode tracking technology allows for instant file identification from large quantities of data; gone are the days of digging through folders, file cabinets, and archives, hunting for a single document.
Reducing the reliance on paper benefits our environment and promotes fiscal responsibility. This election cycle reminds us all that we're living in a time when government is under added scrutiny. The ability to balance budgets is good for your agency, and for taxpayers, too.
Secure, Responsible Data Handling
Too often, space comes at a premium. Bradford Systems provides a variety of solutions to maximize the available space of your building. File room staff outsourcing puts our documentation experts in control of your agency's file management, ensuring a clean, organized, and efficient process. Moving to a new floor, or an entirely new building? When guaranteed security of private records is key, our relocation team can inventory, itemize, and pack sensitive materials, and unload and discreetly reorganize those files at your new workplace.
A Smart Backup Plan
We've seen it happen. Even the best information management policy can fail if documents are mishandled or misplaced. Bradford Systems is here to assist your team with internal or external audit preparation. Document cataloging, indexing, and archiving ensures best practices and accountability. Not expecting an audit in the near future? We can help your team organize and prepare critical financial information for efficient long-term storage, creating a safety net should an audit or investigation ever occur.
How Well is Your Information Managed?
Do you think your office, department, or government agency could benefit from our information management services? Want to learn more about safeguarding records, protecting staff, reducing operational costs and compliance failures and significantly reducing overhead? Contact us today for answers to all of these questions and so much more.