Modula's automated vertical storage solutions are doing more than just saving valuable floor space for automotive parts departments.
Automotive dealerships that have implemented automated vertical storage systems within their parts departments have significantly heightened their storage capacity. On average, saving about 90% of valuable floor space compared to traditional static storage methods. In addition, they've also gained increased control of their inventory, improved picking accuracy, and significantly reduced the time required to pick parts for customers and service. As dealerships look to preserve revenue in the face of the pandemic, parts departments are a key factor and need to run as efficiently as possible.

Why do you need to ensure your Fixed Operations Department is operating at maximum efficiency?
In an automotive dealership, the Fixed Operations Departments (Service, Parts, and Body Shop) are central to the profitable operation of the dealership. According to the National Automobile Dealers Association (NADA), 49.6% of the dealership's gross profits come from the service and parts department. Having an efficient and well-organized Fixed Operations Department means a healthy dealership.
Key benefits of implementing automated storage solutions in an automotive parts department
1. Saving space to increase profitability
Thanks to automated vertical storage systems, automotive dealerships can typically gain 85% to 90% more storage capacity compared to traditional static storage methods.
A 20ft. tall vertical lift module in 140 square feet of floor space can store the same amount of parts inventory that would require approximately 1,500 to 2,000 sq. feet of static shelving within a Parts Department. As a result, implementing an automated storage solution can even eliminate outside containers or off-site storage locations. With more space available, dealerships can also add additional service bays and increase their revenue.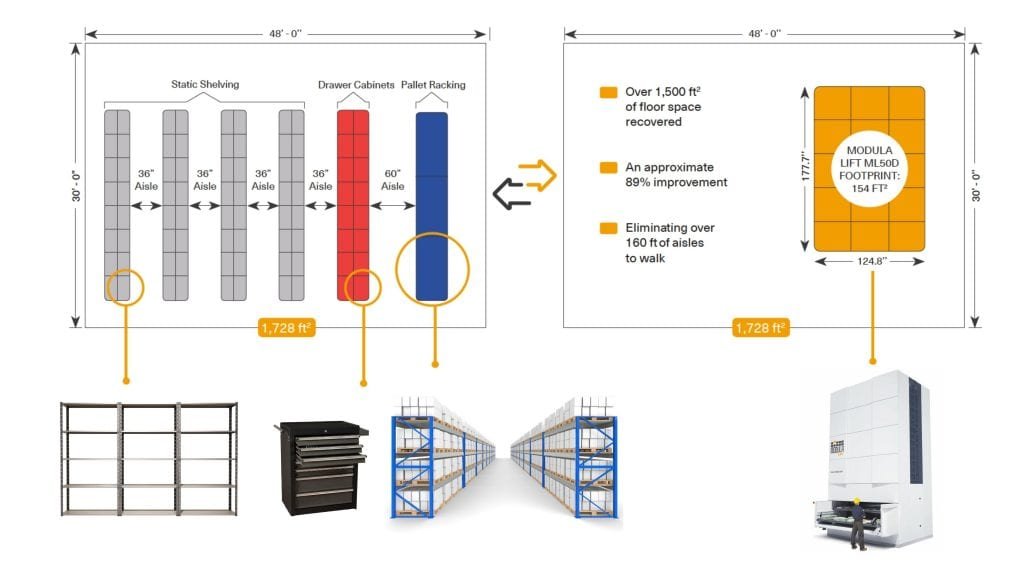 2. Better inventory, better picking accuracy, and increased order fulfillment
Automated vertical storage systems contribute to strategic goals by helping operators work more productively. Vertical lift modules automatically deliver parts to the picker at an ergonomically correct height rather than having the picker go and locate the parts within long aisles of shelving and cabinets. Therefore, the walking time for parts retrieval is reduced by up to 70% while the productivity is dramatically increased.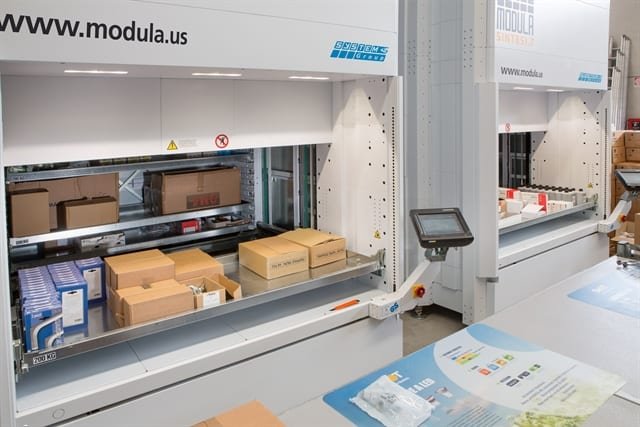 3. Keep your valuable automotive parts secured
Another contributing factor to improved inventory accuracy with automated vertical storage systems is that parts are "out of sight". They are no longer visible on unprotected open shelving or in bins. As an additional security safeguard, user access passwords restrict access to certain storage locations within automated storage systems.
The advantage of the Dealer Management System (DMS) integration
These automated vertical storage systems feature a color touch screen controller that interfaces with most Dealer Management Systems (DMS). This allows orders to be automatically sent directly from the DMS to the storage unit. Personnel is no longer required to manually enter order information from parts invoices. This results in a decrease in staffing for the Parts Department. Current data exchange partners utilizing the Automotive Package include CDK Global, Reynolds & Reynolds, Dealertrack Technologies, and Karmak.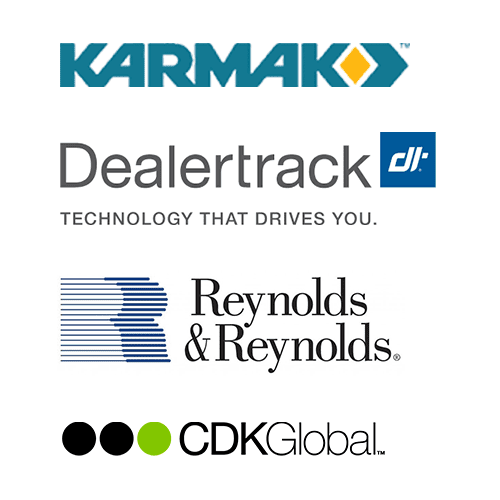 Contact Us for More Automotive Storage Info
These automotive storage benefits lead to more service department jobs, higher profitability, and more satisfied customers. Learn how we can improve your automotive space and improve your safety and ergonomics. Contact us online today or call us at 1-800-696-3453.